EXCERPT FROM "THE ENCHANTED EAR" by Paul McKay
RHAPSODY IN BLUEGRASS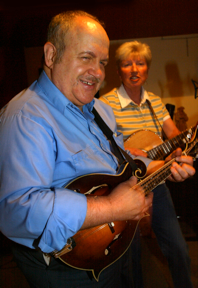 A stranger to the monthly open stage at Rasputin's Cafe in Ottawa might be surprised to find it's standing room only by 8 p.m. Even performers -- caressing fiddles, banjos, mandolins, guitars and standup basses -- are stacked up back to the kitchen, or into the deserted laundromat next door, waiting their turns to play a three-song set on a night when bluegrass rules.
There is a second surprise: When the "Back 40" house band finishes the opening set, the loudest applause -- plus a booming chorus of boos and catcalls -- comes for a balding, billiard-ball shaped mandolin player who has gamely stroked chords, picked a few solos on bluegrass classics such as Fireball Mail, and chipped in confident harmony vocals on standards such as Oh, Lonesome Me. The boos bring a mile-wide smile to the face of 62-year old David Tinkoff. He knows it's affectionate abuse, and he salutes the crowd with a sardonic bow, takes a few slaps on the back, and packs away his mandolin and his pay for the night -- a teetering club sandwich with a huge baked potato on the side.
The moment is proof that Tinkoff is just one of the guys. And that music can reclaim a life almost destroyed by disability and despair.
Tinkoff was born with a broken instrument -- his voice and the brain circuits wired to make it work. He has battled six decades of stuttering, stammering speech so bad that he still mangles most words. It takes five tries and 10 seconds to say the letter C. Sometimes the hard consonants come out with a jackhammer ring. An R rolls out reluctantly. A W wobbles like a broken wheel.
This happens on the bus, on the job, at the grocery store, on his telephone answering machine message. Yet amazingly, Tinkoff can hold his own in demanding bluegrass harmonies, singing every word without a stutter. When he's not singing, his mandolin plays what he cannot say.
It's a miracle he has ever taken the stage. Ridiculed by other kids as a boy in Montreal, Tinkoff was driven deeper into reclusivity by an imperious father he apparently failed to please. As a teenager, there were no dates, no jobs, no social life. Humiliated, he quit high school. His confidence was as shattered as the sentences he tried to speak.
The one solace was radio. Inexplicably, deep into each night, Tinkoff tuned into Wheeling, West Virginia's WWVA, a flagship station for bluegrass, southern gospel and Grand Ole Opry music. It was a sound entirely foreign to Montreal radio stations and the immigrant neighbourhood in which he grew up. It was also anathema to his father, a Jewish-Russian immigrant who fled anti-Semitic persecution and ordered his son not to have any part of alien music or religions.
Yet it was bluegrass that beguiled Tinkoff as a teenager. He continued listening to the broadcasts, and collected every bluegrass record he could. Then Montreal radio station CFCF began playing songs by Nova Scotian Ron Scott -- music with the mandolin, banjo and fiddle. It was a revelation: Bluegrass could be played anywhere. Now Tinkoff had a hero north of the border.
After he attended a Ron Scott concert in Montreal, he bought a mandolin and disappeared into his room for months to practise. There were few lessons. He could not read music. Armed with a book of scales, he says, he wore down the grooves in vinyl records learning how to copy chords, play traditional fills in ballads and waltzes, and work out simple solos.
He emerged with a confidence that astounded his parents. Soon, it would also astonish Bill Monroe, the "father of bluegrass." When the renowned U.S. mandolin player, who penned Blue Moon of Kentucky, came to Montreal in 1966 for a rare Canadian concert, Tinkoff caught him backstage and haltingly offered to play him a tune -- though he had not brought his mandolin. The gentlemanly Monroe saw Tinkoff's reverent stare at his own ancient Gibson F-5: Seconds later, it was gleaming in the novice's hands.
"This was practically my god, and my god's mandolin," recalls Tinkoff, with unabashed delight. "He listened to me play a little bit of Old Joe Clark, then told his band to back me up. It went off pretty good."
At a reunion in Toronto, Monroe spotted Tinkoff at an airport reception and invited him out for an evening of dinner, music and road stories.
The two apparently hit it off, and in a stroke of wry genius Monroe gave him the nickname "Coca Cola Cowboy" -- precisely because it was a phrase Tinkoff couldn't say without endless stammering. Monroe has since died, but his affectionate gesture, like those who boo Tinkoff at Rasputin's, still makes him grin with shy pride.
With Monroe's encouragement, Tinkoff sought pick-up sessions and open stages at Montreal folk clubs and country music venues. He jammed with Kate and Anna McGarrigle, who soon after produced a seminal album dominated by Appalachian style harmonies and ballads penned as musical short stories. It was authentic, Canadian-crafted bluegrass, three decades before the revival sparked by the film O Brother, Where Art Thou.
Meanwhile, Tinkoff turned deeper into bluegrass and southern gospel, traveling as far as Cave Creek, Arkansas to immerse himself in the oldest, purest strains of the music he loved.
"I was in a southern Baptist church, on a Sunday morning. When everyone opened the hymn books, we began singing all the gospel songs I had heard on the radio and on the Old Tyme record albums I had bought by the armful ... That's when I knew what I wanted to do."
Back in Montreal, his father still fiercely opposed the music he suspected would undercut their Jewish faith and culture.
"My folks kept asking me if I was converting to the Baptist religion, and I kept assuring them that I wasn't, that it was just the kind of music and people that made me feel at home."
Yet his parents apparently discerned that the Deep South musical tradition seemed to be their son's only doorway out of despair and isolation .
"My speech was way worse then," says Tinkoff. "Until I took up the mandolin, I was a total hermit. I had no social life. Then I started to get friends, and go out. My father was still very nervous that I hung out with non-Jewish people, but he did start giving me some money to get out to play music."
A decade later, his father realized the mandolin had saved his son's life. "That was when my life changed. It was in 1977, on a Friday night, at suppertime," recalls Tinkoff, sombrely. "He asked me: 'I heard you have a show on?' I looked at him, totally surprised. I said, 'Yeah, I do.' Then he said, 'I want to come and see you.' That was after 20 years of arguments. He showed up at the coffee house in his suit and tie and vest and coat. After our show, he came over to me and shook my hand and said, 'You did good. I'm proud of you'."
The reconciliation was cemented two years before his father's death, when the two exchanged letters expressing love and pride.
"I wrote that I hoped I hadn't disappointed him as a son," Tinkoff says. "He wrote back that he loved me, and was proud of me. It was mushy stuff. But I'm so glad I wrote those letters, and he wrote back. There's nothing worse than asking yourself, too late: what if?"
Tinkoff now lives alone in an Ottawa apartment. He has never married, and has no children. If he feels sorry for himself, it doesn't show. He is gregarious and it doesn't take long for a stranger to detect an articulate intelligence behind his tortured vowels and consonants. His income is a small inheritance, supplemented by a part-time janitorial job at the Ottawa Folklore Centre.
"He even dresses like a janitor, even on stage," cracks his friend and guitar partner David Simmonds. "Look at that blue shirt: It looks like it's from Modern Cleaning Services.
"Dave is a marvelously sweet guy," he adds, with a hint of protective pride. "He doesn't have a bone of ill will in his body."
Friends say Tinkoff's finances don't seem to worry him, and that he remains ever eager to play his mandolin at kitchen singalongs, charity events hosted by genial CKCU radio host Ron Moore (who also plays guitar and sings lead vocals in the Back Forty bluegrass band), and the monthly Rasputin's gig. There's not much doubt Tinkoff's real home is a bluegrass crowd, with the jeans, white blouses and cowboy shirts with embroidered fiddles above the pockets.
At Rasputin's, most drink Blue Light out of bottles, tap out tunes on tabletops with fingers circled by old gold bands and wedding diamonds, and sing aloud salt-of-the earth songs by Bill Monroe, Ralph Stanley, and Newfoundland songsmith Ron Hynes.
It's an inclusive audience, attentive to all the right things. Pretensions are checked at the door. Flashy players are tolerated, but not encouraged. Musical mistakes are quickly forgotten.
Anyone can sign up for the open stage, and earn warm applause. A song about lost love or buried Kentucky coal miners brings respectful silence. The break-neck Salty Dog draws delighted claps, tapping toes and laughter.
No one minds a poem thrown in about a Gatineau Valley childhood, an off-key harmony, or a bass ahead of the beat for a few bars.
What counts is conviction -- the mandolin's haunting tremolo at just the right moment, the lonesome baritone twang of the dobro, sparkling, syncopated banjo rolls, an elegant refrain softly played on the fiddle, and tenderly sung lyrics on Leavin' on the Evening Tide and Queen Anne's Lace.
"There's a kindness in this type of music, and that's why I keep it up," says Tinkoff, just before heading back on stage for a short set with David Simmonds and his other long-time friends, bassist Rich McCarthy and banjo player Vic Chartrand.
"Playing my mandolin gives me a chance to venture out on equal terms with everybody, and not have my speech be an obstacle."
Moments later, the delicate, feathered chords of his mandolin waft out from the stage, while four voices blend harmonies and sing lyrics locked in bluegrass unison.
We'll post all 24 of the award-winning Enchanted Ear stories by Paul McKay - a new story each month!

Click here to read the story for this month.